FRAUD & SCAM RESOURCES
Safeguards to protect you and your finances.
Our Fraud & Scam Resources below have been compiled to help you recognize, prevent, and report scams and fraud. By addressing consumer and business fraud trends and incorporating preventive measures, we hope to create a secure and trustworthy banking environment to protect you and your finances. Staying vigilant and following these guidelines can significantly reduce your risk of falling for scams and protect your sensitive information from falling into the hands of criminals.
Please review the tips and guidelines below and if you feel that your account security has been compromised, call us at 1-888-440-7774 so we can help secure your accounts.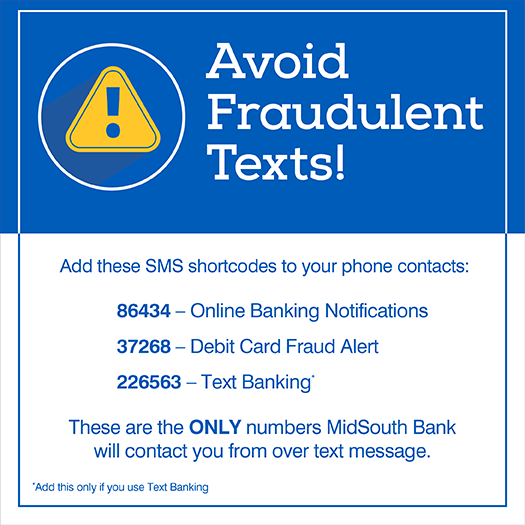 Text Message Scams
Our communities are experiencing an increase in fraudulent texts. Please be advised that MidSouth Bank does not send messages with links or messages requesting your account number, login credentials, or debit card number.
MidSouth Bank will send security alerts related to online banking activity and debit card fraud notifications, but only from its dedicated shortcode text numbers.
If you think the message might be real, contact us directly. Do not use the information in the text message.
How to Spot a Scam
Review these tips along with any suspicious email or text to determine the legitimacy of the message.
Review the sender's information carefully for suspicious, unknown email addresses, phone numbers, or shortcodes. Below are the only shortcodes MidSouth Bank will contact you from.

86434 – Online Banking Notifications
37268 – Debit Card Fraud Alerts
226563 – Text Banking (add this only if you use Text Banking)

Be cautious of suspicious attachments and links.
Watch for typos, grammatical errors, and misspellings.
Be wary of aggressive, threatening, or urgent language.
If the email or text is asking you to provide PINs, temporary codes, account information, or passwords it is likely a scam.
Elevate Your Online Safety
Use a Digital Wallet to store cards and make purchases.
Sign up for online billing to reduce mail identity theft.
Monitor accounts, transactions, and credit reports frequently.
Use unique, long, strong passwords for each of your online accounts.
Enable 2-factor authentication on your banking accounts.
Enable biometrics such as a fingerprint sign-on or facial recognition.
Don't access financial accounts through public WIFI.
Don't use AutoSave or AutoFill features on your browser when paying bills or shopping.
Create strong passwords and change them regularly – don't use the same password for all your online log-ins.
Keep your browser, operating system, anti-virus software, and anti-malware software up to date.
What to Do if You Have Been Scammed
Contact MidSouth Bank's Customer Solution Center at 1-888-440-7774 during business hours or visit BankMidSouth.com/contact to get in touch with us.
Report text scams to your carrier – Look for the option on your messaging platform to report junk or spam. You may also report it directly to your cell phone carrier.
Immediately report compromised debit or credit cards to 1-888-440-7774 during business hours and 1-800-472-3272 after hours.
If you were scammed or think you saw a scam, tell the FTC at ReportFraud.ftc.gov.
Protect Yourself Against Scams
Block unwanted calls and text messages.
Don't give your personal or financial information in response to a request that you didn't expect.
Resist threats or the pressure to act immediately.
Never pay someone who insists you can only pay one way.
Keep your checks, debit cards, credit cards, and financial documents in a secure place.
Regularly review your account activity and monthly account statements.
Shred financial documents and paperwork containing personal information before you discard them.
Cut up old debit or credit cards immediately.
Immediately report lost or stolen debit or credit cards to 1-888-440-7774 during business hours and 1-800-472-3272 after hours.
Create Stronger Passwords
Hackers are diligent in stealing your information. Protect your data and privacy with these tips for creating strong passwords.
Never use personal information.
Include a random combination of letters, numbers, and symbols.
Prioritize password length to be at least 16 characters.
Avoid using real words or words found in a dictionary.
Use a formula to help create your password.
Never repeat passwords.
Change your passwords on a regular basis.
Recognize Common Scams
There are many different types of scams, but they have one objective in common – to steal your money or information. Select from the popular scams below to learn about how you can protect yourself and your finances.
Business Check Fraud
Remaining vigilant, implementing digital solutions, and keeping checks secure are all key steps to preventing check fraud and protecting your finances.
Assess Internal Processes – It's important to ensure your internal processes are secure to reduce the risk of check fraud. For example, performing daily reconciliation of accounts can help identify potential irregularities quickly.
Consider Positive Pay – Positive pay automates fraud detection by validating checks presented for payment against a list of checks your business has written. Mismatches will trigger a notification and require a manual review, reducing the risk of financial loss.
Use Digital Solutions – Use electronic methods for bills and accounts payable and pay your employees via direct deposit when possible.
Don't Leave Checks Unsupervised – Hand outgoing mail directly to your mail carrier or bring it inside the post office. Also, be sure checks are kept in a secure location, and use check numbers to ensure they're in sequence.
Business Lending Scams
If you're in-market for a business loan, be cautious of "too-good-to-be-true" offers that require you to pay an upfront fee. Scammers will promptly pocket this money and disappear. When reviewing business loan options, be sure to research the lending institution and its consumer reviews. Protect yourself and your business by working through trusted lenders.
Use firewalls to protect your business's internet.
Automate anti-virus and anti-malware software updates on all business devices.
Update passwords quarterly. Ensure they are complex and not repetitive.
Enable dual authorization for any electronic fund transfers.
Phishing Scams
According to the FTC, phishing is when you get emails, texts, or calls that seem to be from companies or people you know. But they're actually from scammers. They want you to click on a link or give personal information (like a password so that they can steal your money or identity, or possibly get access to your computer).
Here are three ways to protect yourself or your business from phishing.
Protect your digital devices by using security software that updates automatically. These updates could give you critical protection against security threats.
Protect your accounts by using multi-factor authentication – requiring two or more credentials to log in to your account. The extra credentials you need fall into three categories:

Something you know — a password, PIN, or answer to a security question.
Something you have — a one-time verification passcode you get by text, email, or from an authenticator app.
Something you are — a scan of your fingerprint, your retina, or your face.

Protect your data by backing it up to an external hard drive or in the cloud
Social Shopping Scams
The Federal Trade Commission has identified online shopping scams as the second-most reported type of fraud behind investment scams. Scammers pose as businesses selling products that never deliver or steal the individuals' credit card information.
When you are presented with a shopping ad on social media, open a new browser and go to the product or company's website and confirm it's a legitimate business. You can also search the business and user reviews via Google.
Tax Scams
Dealing with taxes is stressful enough, but you must also be watchful for IRS-impersonation scams. Individuals masquerading as the IRS will attempt to use Phishing Emails, Scare Tactics, Tax Refund Scams, and more to capture your personal information and passwords. The best way to avoid these scams is to verify everything through the IRS directly.
Here are four common tax scams, and how to avoid them.
Phishing Scams – These scams via email or text can trick you into giving out your personal information by posing as official government websites or IRS agents. Don't click a link online unless you're positive about what it is and who it came from.
Threatening Calls – Individuals pretending to be the IRS will use aggressive language or threats to scare you into sending them money. Don't fall for their pressure. The IRS would never contact you in this manner but will primarily communicate with you by mail.
Unemployment Benefits Fraud – Watch for signs that someone may have applied for unemployment in your name, such as receiving mail from an official government agency about the unemployment claim, or unexpected addition of debit cards. If you suspect someone has applied for benefits in your name, report this to the IRS and only report the income you personally received on your tax form.
Tax Refund Fraud – Most of the time, the IRS won't mail or call you unexpectedly about a tax refund or Economic Impact Payment. If you have suspicions, call the IRS directly from their official website to verify everything. In addition, when accessing any important documents, make sure you're using protected WIFI to further secure your data.
Text Message Scams
If you receive a text message you weren't expecting and it asks you to provide personal or financial information, don't click on any links. MidSouth Bank and other legitimate companies will not ask for information about you or your account by text. We will not send messages with links or messaging requesting your account number, login credentials, or debit card number.
If you think the message might be real, contact the company directly using a phone number or website you know is real. Do not use the information in the text message.
All MidSouth Bank customers should also add the shortcode text numbers below to their phone contacts. These are the only numbers MidSouth Bank will contact you from over text message.
86434 – Online Banking Notifications
37268 – Debit Card Fraud Alerts
226563 – Text Banking*
*Add this only if you use Text Banking